So being in my "busy season", I haven't had a lot of opportunities to update my blog but I thought I'd clue you guys in on some things I am absolutely loving right now. Here we go!
1.
Tweezerman Tweezers
: I recently bought a new pair of tweezers and they are so sharp and absolutely perfection. I didn't even realized that my pair was so dull but with these, the precision is awesome and I can pluck my eye brows in a quarter of the time. Loving these. I chose the reptile pattern so the husband did not have to use a pink pair--hehe.
2.
Nike +
: Since I last mentioned the Nike running chip, I have kept up with the running recently, despite working longer hours. This is mostly attributable to my friend that also does the Nike +. So far I have ran over 18 miles and yesterday I ran for 2 full miles without stopping. To some this may not seem like a lot but I have always struggled with endurance while running. My mini is loving all of this working out :-)
3.
Korres Lip Scrub
: Despite living in Florida, this winter has been unusually cold for me. The last 3 weeks have been freezing here. Last week I was in Atlanta for work and it was unusually cold there also. Every morning was 12-17* and it even snowed. This past week in Florida has been as low as high 20's-low 30's and has even brought snow flurries and sleet to Orlando and Tampa. To say the least, my lips have suffered. This product allows me to scrub my lips a couple times a week. My lips stay soft and smooth and my lip stick looks better than ever. This product isn't excessive, meaning it doesn't remove too much skin but just enough to make it smooth and perfect.
4. Bonefish's Pomegranate Martini: This martini has been my fave for a few years now. I have found the recipe online but could never find the syrups in town. My wonderful little sis bought me martini glasses for Christmas so I had to find the ingredients to make these martinis at home. Well thanks to a little friend I call google, I was able to find the receipe and order the syrups. These are amazing! I definitely recommend these if you are a fan of sweet, tasty martinis. Drink up girls!
Ingredients:
1.5 oz. vodka (I prefer Grey Goose, Belvedere, or Ketel One)
0.75 oz
Monin
Pomegranate Syrup
0.75 oz
Monin
Mango Syrup
Put all ingredients into a shaker with ice and shake vigorously. Strain into a chilled martini glass and if you want to be Bonefish authentic, add frozen grapes to the drink. Enjoy!
5. Flirty Necklaces: With spring right around the corner, I am so looking forward to the flirty, florals and I have found so many cute floral-ly necklaces that would look great with a cute dress or even jeans and a t-. Here are some I am totally loving!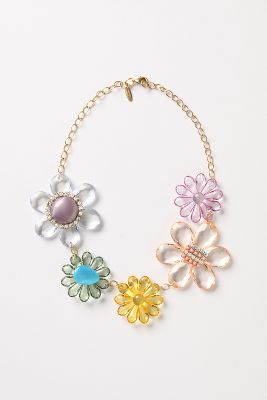 I am excited for spring overall I think for a few reasons----warmer weather, I can wear dresses again, no working late/weekend, finished with school!!! I bought some really cute things from H&M when I was in Atlanta so keep looking out for those----hopefully one will surface tomorrow night if the hubs takes me out after a long day of work ;-)
Happy weekend to you all and happy 3-day weekend to all of you lucky bastards that get Monday off.
xoxo